Friday, October - Sunday, October 14
Imagine the difference we can make as volunteers in our community.  Come to participate in a volunteer service blitz October 12-14.  The goal is to engage all sort of people in giving community service during a 72-hour period of time.  The events can be a church-sponsored event or any other way you wish to volunteer.  We will be promoting various volunteer opportunities and inviting people to share what they are already doing as well.  We will have colorful t-shirts for everyone to promote the weekend.
Please register so that we can have the right size t-shirt available.  To get a t-shirt click here 
A $5 donation is suggested.  Shirts can be picked up along with a brief prayer-guide and other goodies on Thursday, October 11, Friday, October 12 and Sunday morning at the fellowship time after each service.
One exciting option for service is to participate in a food packaging event on Saturday, October 13 from 10:00 a.m.-12:15 p.m. in the fellowship hall.  This will be sponsored by Calvary Church working with the nonprofit group, Rise Against Hunger.  you can sign up for a time slot that works for you.  Children and youth are welcome to participate along with adults.  This event is usually a lot of fun and very rewarding.  No special skills or training required, just willing spirit hands ready to be put to work measuring, packaging sealing up bags of food.  We supply the attractive hairnets!  Our goal is 10,000 nutritious meals that can put a dent in hunger!  40 is the number of volunteers needed.
To register: http://events.stophungernow.org/WC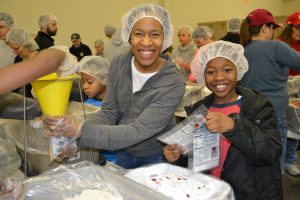 You can sign up each Sunday morning at the welcome center or visit us at www.calvaryumc.org.  To learn more about Rise Against Hunger and how giving 2 hours of your time can make a difference see the short video at https://vimeo.com/231873846
Other Opportunities this Weekend: