Dear Parents,
This week I've had a lot of requests for creative ideas for worship and Easter celebrations when we're all in quarantine. Never fear! I've got you!!
As a matter of fact, I have SO many fun resources that I've got to spread them out a little bit. I'll be sharing some really fun, unique, and creative ways that you can observe Holy Week at home with your family today and next week. With NEXT Sunday being Palm Sunday, I'll be sure to have the Part 2 of this list in your email boxes by the end of the day on Friday, giving you time to prepare.
Don't forget to worship with us Sunday morning online! Join us on our Facebook page at 9:00 am for a live-streamed worship service. This service will also be available to watch at a later time.
I'll be praying for all of you as you embark on your new way to do school this week. If I can help in any way for any reason, please don't hesitate to reach out. I'm happy to help!
Blessings,
Christy Mossburg

God's Big Easter Story: A Holy Week Journey for Families provides your family with a simple, meaningful way to grow in faith together as you remember the events leading up to Jesus' death and celebrate Jesus' resurrection.

Eight brief devotions to download and print encourage families to breathe, read, wonder, and pray together. Kids can add printable story symbols (either full-color or outline-style to color yourself) to a path that follows Jesus's journey from Palm Sunday to Easter morning. This is provided free of charge by Faith Alive Ministries.
More Easter Resources are being made available for me to share later this week – watch for the next email with details on more ways to connect at home over Holy Week!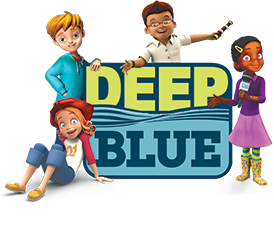 Looking for something different for your kids to watch while they're home? Check out Deep Blue Video Adventures! The same beloved characters from our Sunday School curriculum come to life in these videos that share Bible stories and faith journeys for children.
Watch for more activities to come this week!