The Calvary Nursery is open on Sunday mornings for children who are newborns through four years old.
Hours of operation are 9:30 a.m.-11:00 a.m.
Nursery care is also offered during Sunday School (9:30 a.m.-11:00 a.m.) for children younger than three.
The Nursery is in the main church building, just down the hall from the Sanctuary and across from Parish Hall.
Open for children up to 4 years of age.   
The Nursery staff consists of a team of Nursery Supervisors, trained in infant/child CPR and First Aid, as well as trained youth Childcare Sitters. All of the staff are required to have thorough background checks to ensure the safety of all of the children in our care. Calvary is committed to providing safe and loving care for all children who visit the Nursery. Security is always a high priority. Parents are required to sign their children both in and out of the Nursery.
Our nursery is equipped with a wide variety of toys to accommodate many interests. Staff work to provide structured activities for children, in addition to unstructured play time. Changing tables are available for parent use, as well as a private room for feeding and caring for infants.
Questions regarding Nursery care may be directed to our Nursery Coordinator.
*Parents are asked to refrain from bringing sick children to the Nursery. Children should be symptom-free (without medication) for 24 hours before visiting the Nursery.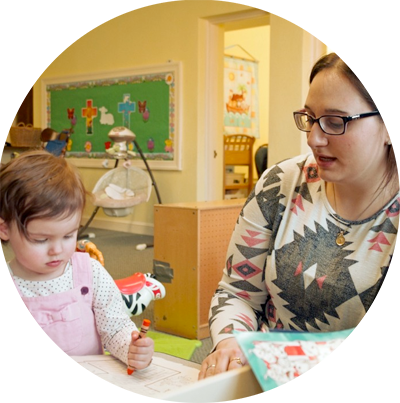 Contact Church Office for more information.