Calvary United Methodist Mission and Outreach
Heart and Hands in Service
Putting our faith into action
Our Plans

–

Projects and programs to participate in or coming up soon.
Our Impact 
–
The results of the many projects and programs completed this year.
New CUMC Logo Gear!
Calvary United Methodist Church proudly announces our new logo gear with a brand-new look! The Mission Committee wants to share that we are a caring congregation with our Hearts and Hands in Service.  It was time for a change in our logo items with a fresh new color as well as new items, including caps in three color choices, aprons, and string bags in addition to t-shirts. On Oct. 8th, Mission Sunday, everyone can purchase the new items at cost.  T-shirts will be available to order in your size.  This new color scheme will bring a fresh look for our Congregation's use as we showcase CUMC throughout the year. Other items will be added to the selection down the line, but for now, check these out Oct 8th on Mission Sunday.
Our Mission and Outreach come from many different Calvary United Methodist Church groups below our teams.  Click the logo below and see what each has been doing and how you can help.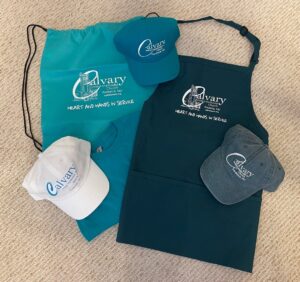 Pay by check or cash
T-shirts are $10         
Caps are $10              
Aprons are $10          
String Bags are $3