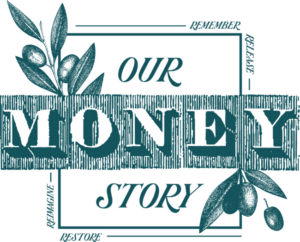 Dear friends in Christ,
During the month of October, we have been looking at the ways we have learned to think about money. We all have a "money story" that shapes how we relate to money. Perhaps it is the story of scarcity and the need to hold onto what resources we have. Maybe it is a story that measures the value of life in terms of dollars and cents rather than relationships and experiences. We may have a money story that leads us to feel shame or fear about money or the lack of money. Or we may have a money story that leads us to find great joy in sharing with others and giving to those causes we believe in.
As we consider our own money story, it is useful to see the various money stories that are present in the Bible. These stories can lead us to a deeper and more rewarding faith. Thinking about God's money story can be liberating, inviting, and transformative. This month, we are inviting everyone to remember, release, to re-imagine, and restore their own money stories so that we can write the one God is calling us to live into.
As your pastor, I look forward each year to the time we do our stewardship campaign. I know that may sound odd for a preacher to say, but it's true! One of the most helpful ways we open ourselves to God is through the practice of sharing and generosity.  When we give to God and the ministries of the church, we open ourselves up for spiritual growth and a more lively faith.  In giving, we make a clear statement about where our hearts are located. After all, Jesus said, "For where your treasure is, there your hearts will be also" (Matthew 6:21).
The annual giving campaign prompts each of us to prayerfully consider what our giving will be in the year ahead. This is the time to pray about what you will do with what God has placed in your hands. Then, having prayed, we can put our intentions into action by completing an Estimate of Giving Card. Giving then becomes a pathway to growing discipleship and vibrant faith.
Our Commitment Sunday will be Sunday, November 13. Now is the time to consider your plans and pray about your giving in 2023. When you are ready, please complete the enclosed Estimate of Giving Card and plan to bring it to the worship service on November 13. You can also mail it to the church or complete an estimate of giving card online at the church website.
Click the link below to complete a 2023 pledge card.
Grace and Peace,
Rev. Steve Larsen, pastor