CALVARY CHOIRS & MUSIC
Music plays an important part in the life of Calvary United Methodist Church.
We currently have one Adult Choir (the Sanctuary Choir), one Children's Choir, and one Handbell Choir (Joyful Noise Ringers).  These Choirs participate in the Sunday morning worship services as well as in special holiday services.  Previous musical experiences are not required to join any of our Choirs – what is needed is just a commitment to serve God through the joy, inspiration, and gift of music!  We would like to invite each and all of you to choose the Choir(s) that interest you and become an active participant in the Music Ministry of Calvary.
Calvary United Methodist Church also has an established and ongoing Concert Series Program – click HERE to see the current concert schedule.
SANCTUARY CHOIR
Rehearsals on Tuesday evenings from 7:30 pm to 9:00 pm in the Calvary Choir Room.
Being the anchor of Calvary's Music Ministry, the Sanctuary Adult Choir sings every Sunday throughout the Choir season.  Employing a range of musical styles, the Choir works to heighten the worship experience through musical offerings that amplify the scripture and message of the day following the liturgical schedule.  Using our shared sense of mission, we sharpen our musical skills, spend time singing, laughing, and brightening our spirits dedicating our time and talent – all to the glory of God!  We are always looking for new voices – sopranos, altos, tenors, and basses.  Please consider joining us in praising God together!  Older youth that would benefit from this opportunity are encouraged to join us as well!
-Photo by John Mitchell
JOYFUL NOISE RINGERS
Rehearsals on Tuesday evenings from 6:30 pm to 7:15 pm in the Calvary Handbell Room.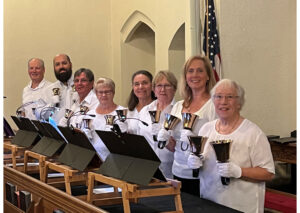 The Joyful Noise Ringers is an adult handbell group.  The Handbell Choir participates in Sunday worship services and in special holiday and festival events.  We are always looking for new ringers including participants with no prior experience.  Please consider making some joyful noise for the glory of God!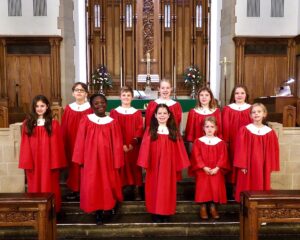 CHILDREN'S CHOIR
Children ages 5 to 11 rehearse on Sunday mornings from 11:15 am to 11:45 am in the Calvary Choir Room.
The goal of the Children's Choir is to teach and help the children become active participants in the music and worship life at Calvary through song, scripture, and prayer.  To achieve this, the children will develop singing skills, vocals, range, and repertoire in a meaningful and joyful way. Come and join the fun!
-Photo by John Mitchell
AGAPE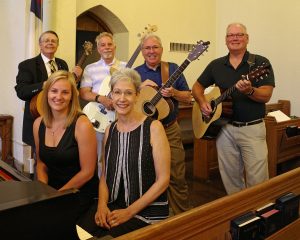 Originally formed as a guitar ensemble, AGAPE has become an integral part of Calvary's Music Ministry.  Adding piano and vocals to the ensemble has enabled the group to present contemporary songs full of meaning and message to our congregation.  The AGAPE director is Mr. Rob Summers.
SOLO SINGERS AND INSTRUMENTALISTS
The Music Ministry is actively looking for and welcoming talented solo singers and instrumentalists who would like to share their talents during Calvary's worship services and special events.
CALVARY MEMORIAL PEAL
With much gratitude to the generosity of many donors, a set of eight full circle peal bells cast by John Taylor Bell Foundry in Leicestershire, England, was installed in 2004.  Calvary's peal bells represent a part of Frederick's unique landmark standing as possibly the only place in the world where three Western bell instruments are located within hearing distance of each other, along with the Carillon at Baker Park and the Chime Set at Trinity Chapel.
In 2006, in commemoration of the 20th anniversary of the Tour of Historic Houses of Worship, all three sets of bells were rung at once.
In addition to Calvary's peal bell ringers, ringers from around the world visit Calvary for peal attempts.
New peal bells ringers are needed to ring all the bells.  Please contact the Calvary office at 301-662-1464 if interested.
The ringing room is located at the top of the stairs as you head to the Church Balcony.
Dr. Adela Peeva, Organist, Conductor of the Sanctuary Choir, Joyful Noise Ringers, and the Children's Choir.
Joyce Summers, Choir accompanist, and Community Concert Series coordinator.
Rob Summers, AGAPE director