Special Announcement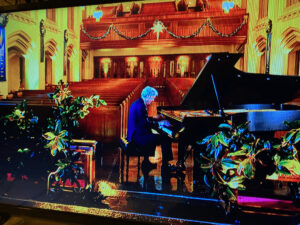 Brian Ganz, pianist, is recording in our Sanctuary this week his annual "All Chopin" performance. It will be aired on WETA, Channel 26, this Sunday, December 6 at 7 p.m., free of charge. There are two other streaming options, see details below.
Many of you are familiar with Brian and the many Chopin concerts he has presented annually for the last 9 years as part of Calvary's Community Concert Series. He practically becomes Chopin when he plays. His talent is beyond words; his depth of knowledge about Chopin and his music is astounding. Brian LOVES our piano as well as our Sanctuary, and with live performances currently suspended, he asked if he could video record his next Chopin recital at Calvary.
In this recital, Brian will present such Chopin favorites as the G Minor Ballade, the Heroic and Military Polonaises, and the Revolutionary Etude. The program also includes waltzes, mazurkas, and other polonaises. In addition, Piotr Gajewski, music director and conductor of the National Philharmonic, will join Brian to talk about his quest of performing every work of Chopin.
Concert access on December 6, 2020:
YouTube, 2:00 p.m.:  https://www.youtube.com/watch?v=GZ8zHeLpG18
National Philharmonic website, 2:00 p.m.: 
https://nationalphilharmonic.org/event/music-that-connects-us-all/
WETA: 7:00 pm on WETA channel 26.
The concert will continue to be available on YouTube and the National Philharmonic website for one week.
All Community Concerts scheduled from January through May 2021 have been cancelled. Rescheduling is underway beginning fall 2021. Visit www.CalvaryUMC.org/concerts for updates.