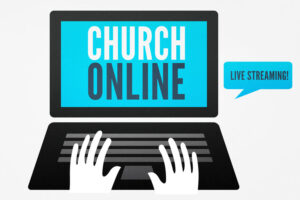 We are hoping to begin to provide one worship service experience that will be available both in the sanctuary in person as well as online through YouTube and Facebook. Since March of 2020, Pastor Shannon and I produced, recorded, and uploaded over 67 worship services for the Calvary UMC family. We saw many of our members as well as some new guests join in these services. At first, we ran into problems with the Wi-Fi connection and the online video stream would stop. Then we moved to recording the services ahead of time, editing the video and putting on to premier each Sunday morning. This gave us move control, but we had to find music that would work, computers that had the capability to do the video rending and editing and the time to put the whole thing together. It helped that the two of us shared in this weekly project along with help from Joche Wilmot. Now, that I am doing this myself, I find that its not sustainable to keep this up.
So, I hope that this week we can return to a livestream format. We will be using some equipment that we had on hand two years ago but will use some updates and tweaks that have come along since then. I hope that we can come up with a simple video system that gives us good sound and video and is easy to use for Sunday morning and special services as well, such a funerals and weddings. I also hope that we might find someone who could volunteer or get paid for a few hours each week to help with running the system and keeping it all going.
As we make this change, we will be able to offer more continuity between the people in the sanctuary and those who participate while at home or away. When two or three gather together in Jesus' name, even remotely, then he promises to be present with them. See you next Sunday at 10:00 AM!.
Grace and peace,
Pastor Steve