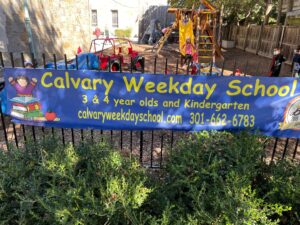 I am so pleased that the Calvary Weekday School is up and running once again! It is wonderful to hear and see the children lining up in the parking lot, running and playing on the playground  and learning and making friends in the classrooms.
All last school year, the school was closed. There were just too many challenges presented by the pandemic to provide the program. However, through the hard work and persistence of Patty Lockard, the Director and Olivia Watkins, the Administrative Assistant, the program was able to open its doors once again this fall. There are two classes for three years olds that meet on Mondays, Wednesdays and Fridays and two classes for four-year olds that meet on the same days. There is also a fully accredited kindergarten program that meets in the morning, five days a week.
To run a safe program that meets the requirements of the State Board of Education requires daily health checks, wearing masks, additional cleaning, and separate play areas and toys in each classroom.  There is much that has to be done by the staff each day to keep everyone happy and healthy and they have all gone the extra mile to do so. The staff has worked hard to set up classrooms and help students make up for the year that was missed in the classroom. They are making this a positive experience for children, families, and other members of the staff.
This congregation can be grateful for the ways that the Calvary Weekday School has offered a wonderful learning experience for many children in Frederick since 1962. This is another way that the church is here for everyone.
Grace and peace,
Pastor Steve Larsen