For six years, Christy Mossburg has served as the Director of Christian Education here at Calvary United Methodist Church. This was her second time serving in this position. She guided our children's ministry and lead small group studies for adults. She organized and ran the children's church during worship services.  During the pandemic, Christy found numerous ways to stay connected with families through special projects sent home, online Sunday School, storytime, and VBS. She offered a family and children's ministry blog and provided lots of valuable guidance with Facebook, the church website, and the "MyCalvary" database. She organized the making and delivery of the "Love Bags" that were distributed to many of our seniors on Valentine's Day.
We can be grateful to Christy for the many ways in which she helped the church care for children, families, and adults.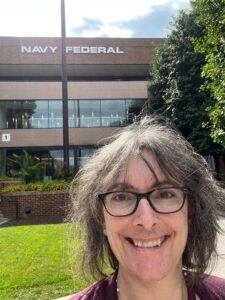 Christy has just started a job with Navy Federal Credit Union that will require her full-time attention. She has decided to step
down from her position here at Calvary Church effective the end of the month. We wish her well in her new job.
The Staff Parish Relations Committee is in the process of reviewing the job description and considering how best to proceed to care for those items that are best suited for a church employee.
I am personally grateful to have worked with Christy and for the experience and hard work, she brought to the position. She will be missed as the Director of Christian Education, but she will continue to be active in the congregation as a member. I am also pleased to know that she has agreed to continue to serve as the director of Vacation Bible School next summer.
Grace and Peace,
Pastor Steve