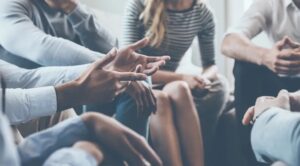 Some of the best experiences in life happen with other people. That's certainly one of the ways we grow in our walk with Christ. We grow by being in conversations with others, listening deeply, and putting our questions, experiences, and insights into worlds.
Learning in the community reproduces the way that Jesus taught his disciples. It wasn't an accident that Jesus chose disciples and spent time with a handful of people he gathered around him. Their understanding of God and their awareness of God's plan for their lives was nurtured as they listened to him, spoke with him, and as they watched him and each other.
We all can benefit from a circle of people that know us well. We need friends with whom we can be transparent without fear of judgment, honest without fear of shame, and accepted without conditions. It's great to have acquaintances, but we all need a deeper friendship than what is found on Facebook or a simple chat in the Fellowship Hall. I am grateful that I have found genuine friendship time and time again among the people at church. Maybe it's through a Bible study or a topical discussion group. Maybe it's through a women's circle or the men's breakfast. It might be a Sunday School class, the choir, or a mission trip outside the area. I am grateful that the church has been a place to form these deeper relationships where we can learn and grow.
Growing in faith does not come easily or automatically. It requires some effort on our part. When we make room for being with other people for the purpose of deepening our faith, faith is more likely to take root and spring up. When we come together, we can find encouragement, support, and new perspectives.  We can look around and see faith as it is lived out and made real in the lives of other people. We also can hear others speak about the ways that they see God at work in and through us also.
Grace and peace,
Pastor Steve