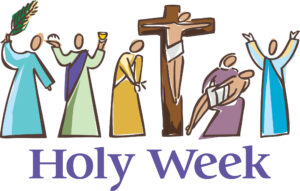 We are now in Holy Week, that period of seven days that begins with Palm/Passion Sunday and ends with the break of day on Easter Sunday. This is a time in which we recall the last days of Jesus life and we are incorporated once again into the central mystery of Christian faith and life.
Monday through Thursday afternoon comprise the minor days in Holy Week. It was during those days that Jesus was found teaching in the Temple courtyard or questioned by his opponents who hoped to catch him in some false or heretical thinking. It is on Thursday evening that the days take on greater significance. The Thursday of Holy Week has often been called Maundy Thursday, because "maundy" comes from the Latin word for "command."  In John 13:34, Jesus gives his disciples the command "to love one another."  The day is also known as Holy Thursday. This is also when we recognize the way in which Christ is present to us in Holy Communion.
Good Friday is the day we remember the crucifixion. By his death, we receive life, by his wounds we are healed. We will be reading through the Gospel of John and extinguishing candles as a service of Tenebrae or darkness. Some churches hold a service that collects together the words that Jesus says from the cross according to the four Gospels.
The church will then remain dark until Easter morning, recalling how the women went early on the first day of the week to visit the tomb where the body had been laid. Here we listen to the story, told in music and in scripture, in visuals and in sermon, about the resurrection and the Risen Christ.
As we make this journey together, we find that the story shapes how we experience life. God is at work, even in the darkest moments, even in our sorrow and loss and death. God's love is present and in the end, God has a final word to offer and the word is LIFE.
Grace and peace,
Pastor Steve